Vynova Group today inaugurated its new, state-of-the-art potassium hydroxide (KOH) membrane electrolysis facility in Tessenderlo, Belgium. The plant is the result of a major conversion project which was concluded in April 2018, ahead of schedule. The project involved a 65 million euros investment and is part of a larger investment programme of more than 100 million euros at the Tessenderlo site.
The KOH facility has been converted to the latest generation membrane technology and is a major step forward in terms of sustainability and energy efficiency.

"We are very pleased with the flawless execution of this world-scale investment. The new facility enables us to produce a top-quality product that is fit for demanding applications, for example in the food and pharmaceuticals industry", says Luc Leunis, Vynova Executive Vice President Monomers Operations.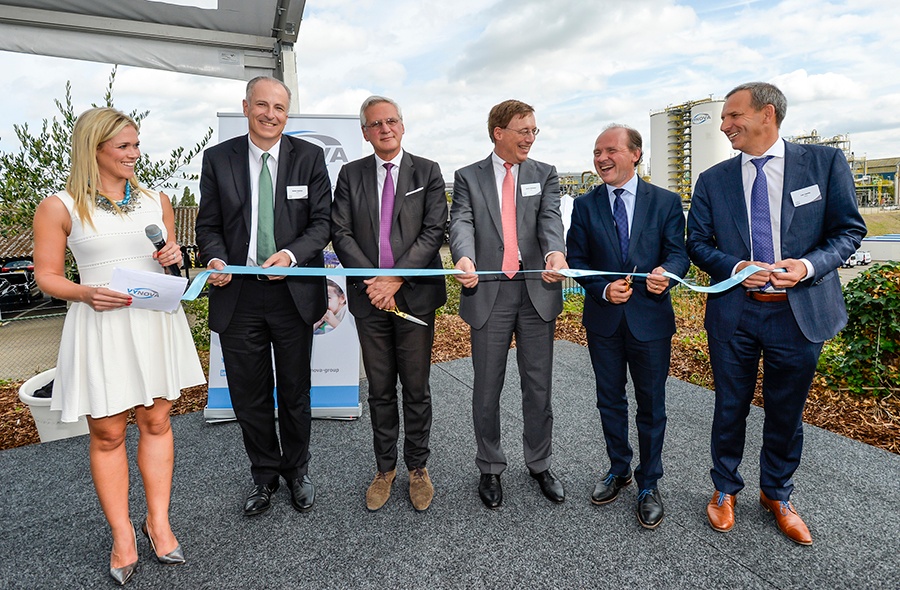 Long-term commitment to KOH market

"Our new Tessenderlo facility will enable us to continue as a reliable partner for our customers and is a sign of our long-term commitment to the KOH market", comments Jacques Sturm, Vynova Vice President Sales & Marketing Potassium Derivatives.

"We are the only company able to supply potassium hydroxide and potassium carbonate liquid from two European production sites - in Tessenderlo and Thann (France) - and this investment further strengthens our position as Europe's number one supplier of potassium derivatives", adds Jacques Sturm.

To mark the inauguration, a special event was held in Tessenderlo today for customers, other business partners and local stakeholders. It was attended by both Belgian federal deputy prime minister Kris Peeters and Flemish minister for Work, Economy and Innovation Philippe Muyters.

Download high-resolution press pictures and video footage.

About Vynova
Vynova is a leading European PVC and chlor-alkali company. Our products play a key role in manufacturing numerous industrial products and consumer goods that improve our quality of life. With production sites in five countries and 1,200 committed employees, we generate annual sales of nearly 1 billion euros.
Established in 2015, Vynova is the chlor-vinyls platform of the International Chemical Investors Group (ICIG). Our product offering comprises multiple grades of suspension PVC (S-PVC), KOH and other potassium derivatives, caustic soda (NaOH) and sodium hypochlorite (NaOCl).
For more information, visit www.vynova-group.com.

About International Chemical Investors Group (ICIG)
International Chemical Investors Group (ICIG) is a privately owned industrial group with sales in excess of 2 billion euros and more than 6,000 employees worldwide. ICIG is focusing on three main platforms: Pharmaceuticals under the CordenPharma brand, Fine Chemicals under the WeylChem brand and Chlorovinyls under the Vynova brand. Since inception in 2004, ICIG has acquired 26 independent chemicals and pharmaceutical businesses in Europe and the United States, all of which have origins in major global chemical or pharmaceutical corporations.
For more information about International Chemical Investors Group: www.ic-investors.com.

Contact:
Yannick Brusselmans
Group Communication Manager
Phone: +32 479 32 34 99
Email: yannick.brusselmans@vynova-group.com