Stefan Sommer, President of Vynova Group, has been appointed Chairman of the European Council of Vinyl Manufacturers (ECVM) and of VinylPlus®, the voluntary sustainable development programme of the European PVC industry. He replaces Josef Ertl, Member of the Advisory Board of Vinnolit.

Mr. Sommer has a degree in Business Economics from Ludwig-Maximilians-Universität in München (Germany).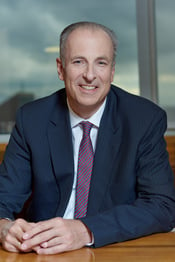 He has over 30 years of consulting, business development and general management experience gained at various leading chemical companies. He served as CEO of Ticona Engineering Plastics, CEO of ASK Chemicals and President of DSM China. In 2015 he was appointed President of Vynova Group.

Mr. Sommer joined the ECVM board in 2015. In addition, he serves on the board of PlasticsEurope Germany.

Download a high-resolution picture of Stefan Sommer.

About Vynova
Vynova is a leading European PVC and chlor-alkali company. Our products play a key role in manufacturing numerous industrial products and consumer goods that improve our quality of life. With production sites in five countries and 1,200 committed employees, we generate annual sales of nearly 1 billion euros.
Established in 2015, Vynova is the chlor-vinyls platform of the International Chemical Investors Group (ICIG). Our product offering comprises multiple grades of suspension PVC (S-PVC), KOH and other potassium derivatives, caustic soda (NaOH) and sodium hypochlorite (NaOCl).
For more information, visit www.vynova-group.com.

About International Chemical Investors Group (ICIG)
International Chemical Investors Group (ICIG) is a privately owned industrial group with sales in excess of 2 billion euros and more than 6,000 employees worldwide. ICIG is focusing on three main platforms: Pharmaceuticals under the CordenPharma brand, Fine Chemicals under the WeylChem brand and Chlorovinyls under the Vynova brand. Since inception in 2004, ICIG has acquired 26 independent chemicals and pharmaceutical businesses in Europe and the United States, all of which have origins in major global chemical or pharmaceutical corporations.
For more information about International Chemical Investors Group: www.ic-investors.com.

Contact:
Yannick Brusselmans
Group Communication Manager
Phone: +32 479 32 34 99
Email: yannick.brusselmans@vynova-group.com