When you think about your happiest summer memories, what pops into your mind? For many, the answer is warm weather, great holidays, cool ice cream and family fun in the pool. If you're planning to recreate these happy memories, it's important to think about swimming pool safety at all stages from construction through maintenance to fun and games. Let's take a look at how Vynova's product range can help take care of the practical side of things, leaving you free to make more memories.

From salt to chlorine to PVC
What's the link between salt, electrolysis, Vynova and swimming pools? Simple, salt is the starting point for the production of chlorine, manufactured at our electrolysis plants in Belgium, France and the UK. At these plants, a solution of salt in water called brine is turned into chlorine via an electrolysis process.

In a next stage, we use this chlorine to manufacture other products, such as PVC, a versatile polymer used in many applications that improve the quality of our daily life. In addition, we directly supply liquid chlorine manufactured at Vynova PPC in Thann (France) to a wide range of industries, including water treatment.

And where do both chlorine and PVC come into play? Right, swimming pools!

Constructing your pool with PVC from Vynova

PVC, short for polyvinyl chloride, is a widely used polymer that has thousands of applications thanks to the material being lightweight, strong and tough as well as easy to cut, shape, weld and join in a variety of ways.

PVC's main applications for swimming pool construction are pool linings, pool rollers and covers, and pipes for plumbing.

PVC in pool linings

When it comes to pool linings, there are certain characteristics that you cannot compromise on. It is essential that your swimming pool liner is:

Perfectly watertight
Flexible enough to fit customized pool shapes
Suitable for all climates and weather extremes
Resistant to algae, mould and mildew
Easy to clean
UV resistant to avoid damage caused by constant exposure to sunlight
Long-lasting and durable
Non-slip to help maintain poolside safety
PVC ticks all these boxes, plus it comes in a wide range of colours, for the perfect bright backdrop for your family fun.

PVC pool rollers and covers

Protecting your pool year-round is a good way to reduce the amount of maintenance you need to do. In the winter, a good cover prevents the accumulation of leaves in the pool by completely covering the water's surface. And in the summer, a lighter cover floats on top of the water to reduce water evaporation and maintain your pool water temperature.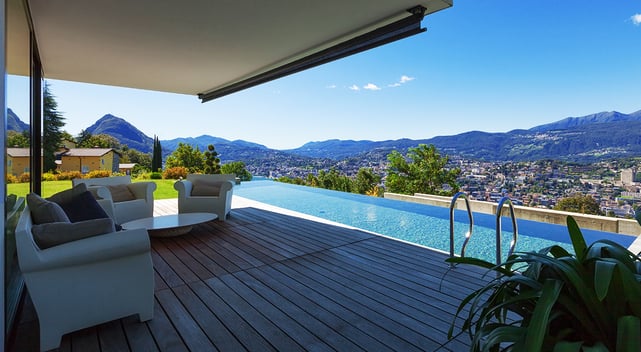 PVC pipes for plumbing

Ideally, the plumbing for your swimming pool is 'out of sight, out of mind'. However, the only way to achieve this is by ensuring you install good plumbing in the first place, as the majority of the plumbing system is buried and not easy to repair or service at a later date. That's why it's important to select PVC pipes. As well as being strong, flexible and easy to work with, PVC pipes are also resistant to damage from chlorine.


Maintaining your swimming pool with Vynova chlorine
The next step is swimming pool maintenance. This is where chlorine, manufactured at Vynova PPC in Thann (France), plays a key role. To ensure swimming water remains healthy and clear, all public pools and most private pools are treated with chlorine. Chlorine kills potentially harmful germs that may be present in the water and is used to control organic debris and prevent algae growth. Chlorinated water also stays clearer longer.

The main advantage of chlorine over other pool sanitizers, like ozone and UV, is that it keeps working long after it has been added to pool water, providing a residual level of protection against waterborne germs. While there are different checks you can do to ensure that your pool has the right chlorine level, the easiest is to check the pH of the water and keep it balanced between 7.2 and 7.8 .
In small amounts diluted in water, chlorine poses no health risks. In fact, chlorine is added to drinking water to kill bacteria and make it safe to drink.
Chlorine can be added to pools as a powder, as tablets or in gas form. You can also install an electrolysis system in your pool, a device that produces chlorine from salt in a similar way as the Vynova electrolysis plants albeit on a much smaller scale. In this set-up, you use slightly salty water, which passes through the electrolyser's cell, which naturally transforms it into chlorinated water by means of an electric current. Then, through UV action, the salt is reconstituted, before passing through the electrolyser again, and so on.


Swimming fun!
After constructing and maintaining your pool, it's time for some family fun in the pool! As well as its role in pool construction, PVC is also commonly used in the manufacture of inflatable toys and inflatable pools.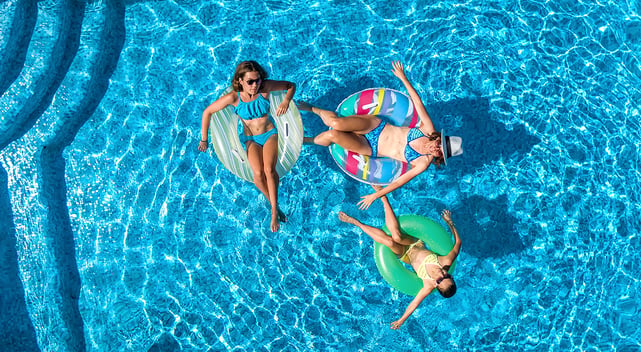 Inflatable toys

Available in a huge range of styles, shapes and sizes, inflatable toys are great fun for children of all ages in the pool.

Given that inflatable toys don't have a frame, the fabric used must be strong enough to support the structure as well as the rough and tumble of playing. PVC coated vinyl or nylon is a durable solution that is easy to work with and available in every colour under the rainbow.

PVC inflatable pools

A brightly coloured inflatable pool can lead to hours of fun, especially for smaller children. Compared to a traditional swimming pool, they are inexpensive, easy to set up and move, and simple to clean and maintain. Plus, kids love them!

Just remember to look for an inflatable pool made from several layers of PVC for the most durability and stability.


Contact Vynova
Vynova is a leading European producer of both PVC resins and liquid chlorine. Our products are used in numerous applications that benefit health and improve our quality of life, like water treatment and construction applications for swimming pools. Find out more about chlorine from Vynova here or discover our PVC grade portfolio here.

#ThePotassiumDerivativesExpert
#IndispensablePVC